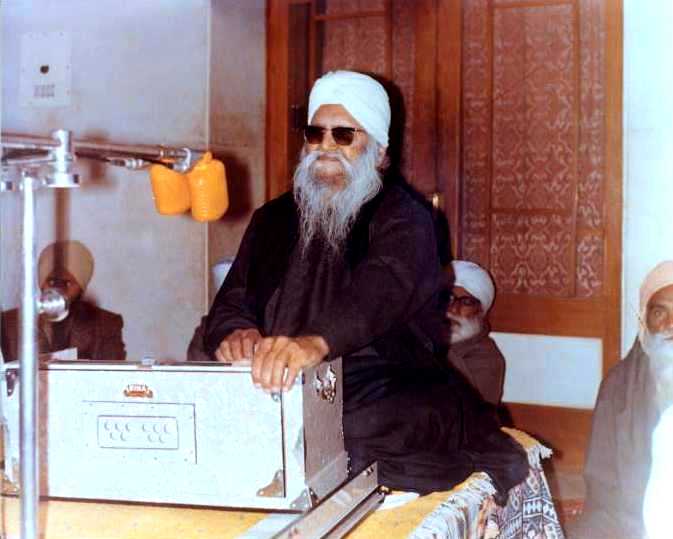 JEEVAN SAKHI
Author : Rupinderpal Singh Bhandher
It is as difficult and beyond imagination to express and narrate the spiritual spheres and virtues of a true saint, as if to capture the ocean in a bowl. The latter might be accomplished one day but the spiritual sphere of a saint will never be brought under limitation. Rare are the Divines who descend on this earth duly empowered and equipped with Divine Grace to shower the fragrance of the Holy Name. Invested with the Eternal Glory of Sri Guru Nanak Sahib, Sant Baba Isher Singh Ji arrived on this earth on Friday 5th August 1905, in the village of Alowal to Baba Ram Singh Ji and Mata Rattan Kaur. His influence on the world had been predicted on two occasions prior to his birth. Firstly as a young girl Mata Rattan Kaur, while serving food to visiting holy men, was told that she would be the mother to a very special child and secondly, after their marriage, Baba Ram Singh was told by another holy man that he would have a son whose influence would spread across the world like the scent from a rose, hence the name Gulab Singh.
Sant Isher Singh Ji's special qualities started coming to light at a young age. When three years old he used to tell the local kids to sit down cross-legged and recite " Waheguru, Waheguru ", whilst he gave "parshad". On another occasion Baba Ram Singh Ji and Mata Rattan Kaur were on their way to vi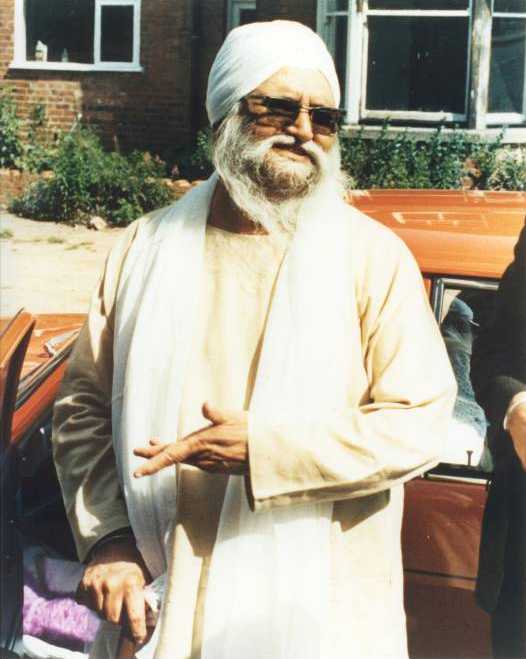 sit a local holy man "Vidoshe Wale Sant", and Maharaj Ji, then four years old, insisted on going along. After bowing both Baba Ram Singh Ji and Mata Rattan Kaur, sat a respectful distance away, however Maharaj Ji went and sat next to the holy man in the same manner. On doing so he asked several times whose son this was, eventually and a little fearfully Baba Ram Singh and Mata Rattan Kaur owned up. The holy man laughed and told them they did not realize their son's qualities, he told them that he would be a very holy person and people, many very influential, would come to him for advise and to be in his presence.
Sant Ji received their basic worldly education from the primary School of village 'Chulela'. For higher schooling he went to his uncle at Patiala and passed his matriculation examination from the Model School. Thereafter the worldly education could not hold his mind and in the state of asceticism he became the disciple of Sant Attar Singh Ji of Reru Sahib.
By the inspiration of the latter, he got baptized and was renamed Isher Singh. Thus motivated by the life and teachings of Sant Attar Singh Ji, he adopted the path of devotion and from him received the boon of propagating Sikhism through "Kirtan" (singing of hymns).
Once a year on Sant Baba Karam Singh Ji's barsi, Sant Baba Attar Singh Ji would go to Sehdu Sahib, there after having bathed in the extremely cold river Sant Baba Attar Singh Ji and Maharaj Ji would sit on the river bank and do path and meditate for many hours. On the first occasion, Maharaj Ji being unfamiliar with the cold fell ill but it was only with the permission of Sant Baba Attar Singh Ji that Maharaj Ji was taken and revived.
As time went on Maharaj Ji attained a higher and higher spiritual level and eventually Maharaj Ji was bestowed a "kafni", these being the outer garments to distinguish Maharaj Ji as a Sant. Sant Baba Attar Singh Ji explained that although Maharaj Ji had already attained this state it was important for the Sangat and outside world to know his standing. Sant Baba Attar Singh Ji further stated that Maharaj Ji would attain a very high spiritual level and many very important people from far and wide would come to be in his presence and for his advice. Maharaj Ji replied that he had no interest and relationship with these things since they would take him away from God and Maharaj Ji requested for Sant Baba Attar Singh Ji to bless him that he will never forget God. Sant Baba Attar Singh Ji explained to Maharaj Ji the pitfalls that lay ahead on Maharaj Ji's path and how to be very careful of these things. Sant Baba Attar Singh Ji also told Maharaj Ji to keep increasing his knowledge and to learn how to do kirtan, so that Maharaj Ji will be able to impart some of that knowledge to the Sangat that would come to be in his presence. Sant Baba Attar Singh Ji placed Maharaj Ji's hand on a harmonium to signify this new phase in Maharaj Ji's life.
In 1926 Sant Baba Attar Singh Ji and Maharaj Ji went to Dumdama Sahib for Vasiakhi, there Sant Baba Attar Singh Ji met Sant Baba Attar Singh Ji Mastuana Wale. When leaving Dumdama Sahib when Maharaj Ji paid his final respects to Sant Baba Attar Singh Ji Mastuana Wale, he looked at Maharaj Ji and held him in his arms. Sant Baba Attar Singh Ji Mastauna Wale put his hand on Maharaj Ji's head and stated he would attain a very high spiritual level and people would come to him for advice and to ask for Maharaj Ji's time.

When on 21st January 1927 Sant Attar Singh Ji gave up his corporeal being. Sant Isher Singh Ji became sad and disconsolate. In order to overcome this despondency, he set out on pilgrimage. After visiting Machiwara, Kiratpur Sahib, Sri Anandpur Sahib, Sri Amritsar Sahib, Sri Nankana Sahib and Punja Sahib he came to Rara Sahib and settled here. By virtue of his devotion he turned this deserted place into a sacred place that has become famous the world over. "A saint remembers the God and helps others remembering Him" following this principle he devoted himself to worship and motivated the people to be 'Gursikhs' and to follow the path, shown by the Sikh Gurus. It is after they had settled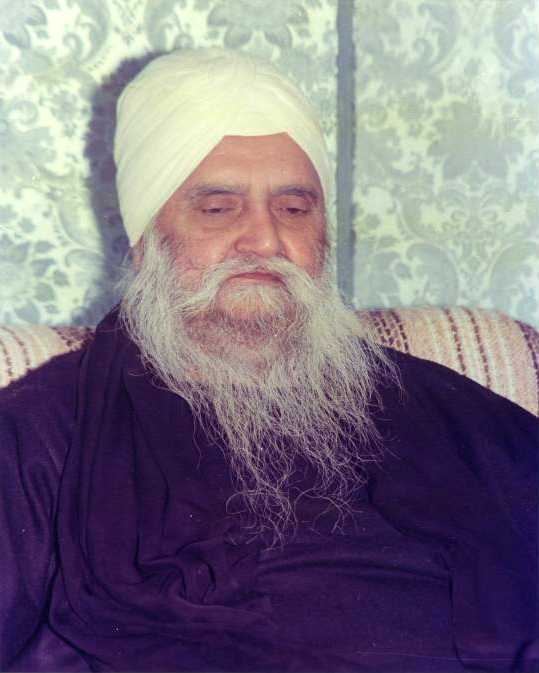 at Rara Sahib did Sant Ji begin their life mission of preaching Sikhi. Maharaj Ji is universally acclaimed as one of the most charming and dynamic personalities of their day. Tall and majestic, sweet and warm hearted his heart over flowed with the milk of human kindness, Pious in thought word and deed he was the very image of Godliness. Blessed with the Divine light, he preached Godís truth and delivered Guru Nanakís message of love and peace to every home in India and abroad. Continuously for 55 years he recited Gurbani and with his sweet and melodious kirtan put thousands of burning minds to rest. After the final Diwan of each location Amrit Sanchar would take place. By this fashion over 700,000 Sikhs received Amrit and entered the Khalsa Panth. In their duty of preaching Sikhi Maharaj went on a 13 months long mission to Africa in 1949. There he gratified the spiritual needs of the Sikh congregation with lucid explanation of the Gurbani, interspersed with his melodious, captivating and soul lifting recitals Dharnas, taken from Gurbani. The thousands of devotees that attended congregations in His holy presence world wide felt as if they had taken a dip in an Ocean of purity. Minds would be cleansed of all accumulated impurities of past sins and Karmas in His holy presence. From this Ocean of purity which Sant Baba Isher Singh Ji Maharaj was and is, beams out to the whole world all the blessings and bliss of Sri Guru Granth Sahib. There was no trace of ego, worldliness or materialism in His dwelling places. Purity was the keynote, main-stay, life-force in His congregations.After returning to Punjab, he continued his mission by holding annual congregations in towns and cities as far as wide as Meerut, Delhi as well as in Punjab. Maharaj Ji had three main Ashrams in India, firstly at Rara Sahib, secondly at Dabhlan, Patiala and thirdly at Hapur, in Uttar Pradesh. To these day all three location are preserved in Maharaj Jiís loving memory. On this very mission, to propagate Sikhism he also visited England in 1974 and 1975. As Gurbani tells us, whoever comes onto this earth must eventually leave it. Maharaj Ji had started to give hints about the inevitable. At both his last diwans in Ludhiana and Delhi Maharaj Ji stated that they were going to England and they would again grace this county if their body allowed it. They arrived in England and after holding diwans in London they went to Wolverhampton.
Sadly on 26th August 1975, while sitting in meditation in Wolverhampton, England he left the world for heavenly abode. The necessary arrangements were made and Maharaj Jiís holy body was brought back to India on the 31st of August where more than 20,000 devotees had gathered to have darshan of their most beloved master. The holy body was then brought back to Rara sahib, Maharaj Jiís home of the last 55 years. The next day the holy body was taken to Gurdwara Bibhaur Sahib, where Guru Gobind Singh Ji composed 'Chaupai'. Here over 50,000 devotees had gathered to bid farewell to their beloved master. After Ardas was performed by Sant Baba Mihan Singh Ji, Maharaj Jiís holy body was taken out on a boat accompanied by Sant Baba Kishen Singh Ji Maharaj, Sant Baba Mihan Singh Ji, S.Daljit Singh Ji and S.Charanjeet Singh Ji Coca cola wale as well as other members of sangat. Here in the middle of the River Sutlej Maharaji Ji's Holy Body was laid to eternal rest.